UTOMHUSTRÄNING MED GLÄDJE ÅRET RUNT
Välkommen att testa Rootcamps utomhusträning! Konditionsträning blandas med funktionell styrka. Kan du jogga 10 min så fixar du passet. Träningsglädje, utomhus, tillsammans!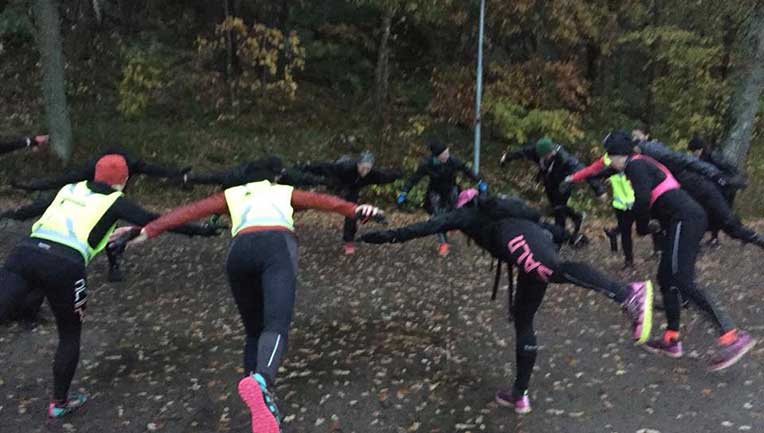 Hur man anmäler sig
Du anmäler dig till våra camps via email eller via formulären. Du får ett bekräftelse-mail från din instruktör om du fått plats i gruppen samt faktura/betalningsinfo. Du är garanterad plats först efter du fått bekräftelse via mail och betalat avgiften.
"Move your ass and your mind will follow" – anmäl er redan nu – i morgon kan det vara fullt!
Ett camp pågår under 6 veckor med 2 pass per vecka (12 tillfällen). Varje pass är 1 h. Vi kör tre camp under våren och tre under hösten.
SCHEMA (lokala variationer kan förekomma)
CAMP 1 v. v.3-9 (Sportlov v.7)
CAMP 2 v. 10, 11, 12, 13, 14, (15 påsklov), 16
CAMP 3 v. 17, 18, 19, 20, 21, 22
CAMP 4 v. 33, 34, 35, 36, 37, 38
CAMP 5 v. 39, 40, 41, 42, 43, 44
Camp 6 v. 45, 46, 47, 48, 49, 50
–
Företagsträning, kick-off, inspirationsdag eller svensexa?
Vad planerar ditt företag att göra nästa kick-off? Skulle dina kollegor eller vänner behöva en stor dos träningsgläde utomhus?
Rootcamps inspiratörer kommer gärna till din arbetsplats, anordnar en rolig dag eller är en del av er konferens/kick-off.
"Move your ass and your mind will follow" – hör av er redan nu för att planera in ett roligt och hälsosamt event!